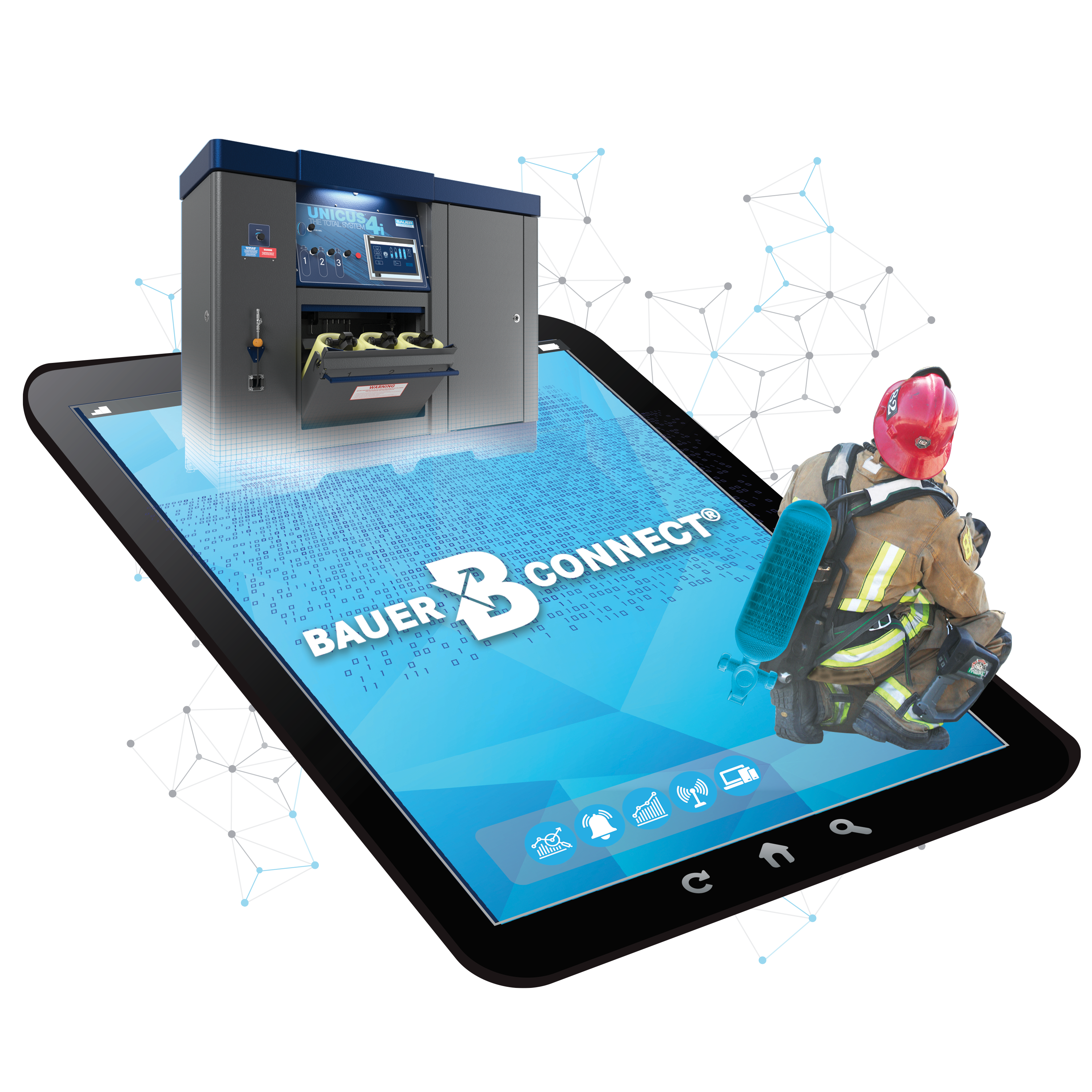 The firefighting industry is all about connection within the department and its community. As a community, firefighters are connected to the very lives they save. When lives are on the line, the last thing you should worry about is the air you breath or the equipment in your station.
Introducing a new kind of connection - BAUER CONNECT® IoT Solutions for Firefighting. Meet our all-in-one mobile telemetry solution for optimal ease of use and efficiency. For the first time, you can view your SBCA fill data logs, get notifications about your compressor and see or control your BAUER compressor all in one app. Whatever your needs, Bauer Connect can tailer a solution for your station. For over 75 years, BAUER has been the leader in high-pressure breathing air solutions for Firefighting.
BAUER CONNECT® - Connection that Matters.
---
STANDARD FEATURES:
Generate a report per NFPA 1989
Real-time Automated BAUER CONNECT®
Offline data storage when no connection is available
Tracks data per fill event
Cylinder inspection checklist with initials
Identifies out-of-hydro and/or expired cylinders
Warning when filling to incorrect pressure
RFID cylinder registration
Guest-filling feature
Intuitive application design
Manual barcode scanning for non-RFID-equipped cylinders
Cloud synchronization
Works on all SBCA manufacturer's RFID technology
---
Which NFPA Regulations Does This Help With?
NFPA 10 is the regulation covering both liquid, gas and powder fire suppression tanks.
Learn About RFID Tagging
Radio frequency identification (RFID) technology can be thought of as a next-generation bar code. A simple RFID tag consists of a microchip and antenna that stimulated by a remote reader, sends back information via radio waves. There are three main categories of tags; they operate in the LF, HF, and UHF frequency ranges. Each frequency range brings a unique set of capabilities and requirements for use.
Rapid Deployment
Our solution is an all-in-one, self-contained package. Each purchase comes with everything required, including your first year's subscription to the online administration portal.
Tank Registation
Easily add new SCBA/SCUBA cylinders to your inventory via this robust portable solution. The new cylinder registration system allows you to enter just the basics or more detailed certifications for new cylinders, including the latest MAE (Model Acoustic Emissions) standard certification dates. Cylinder expiration and recertification requirements are checked with every scan.
Real-time
This platform utilizes and online/offline data management configuration, so any changes made online or fills recorded offline are rapidly synchronized the next time an internet connection is available. New personel, compressors, and cylinders are downloaded to each device regularly, and cylinder fills are uploaded immediately for reporting and compliance.