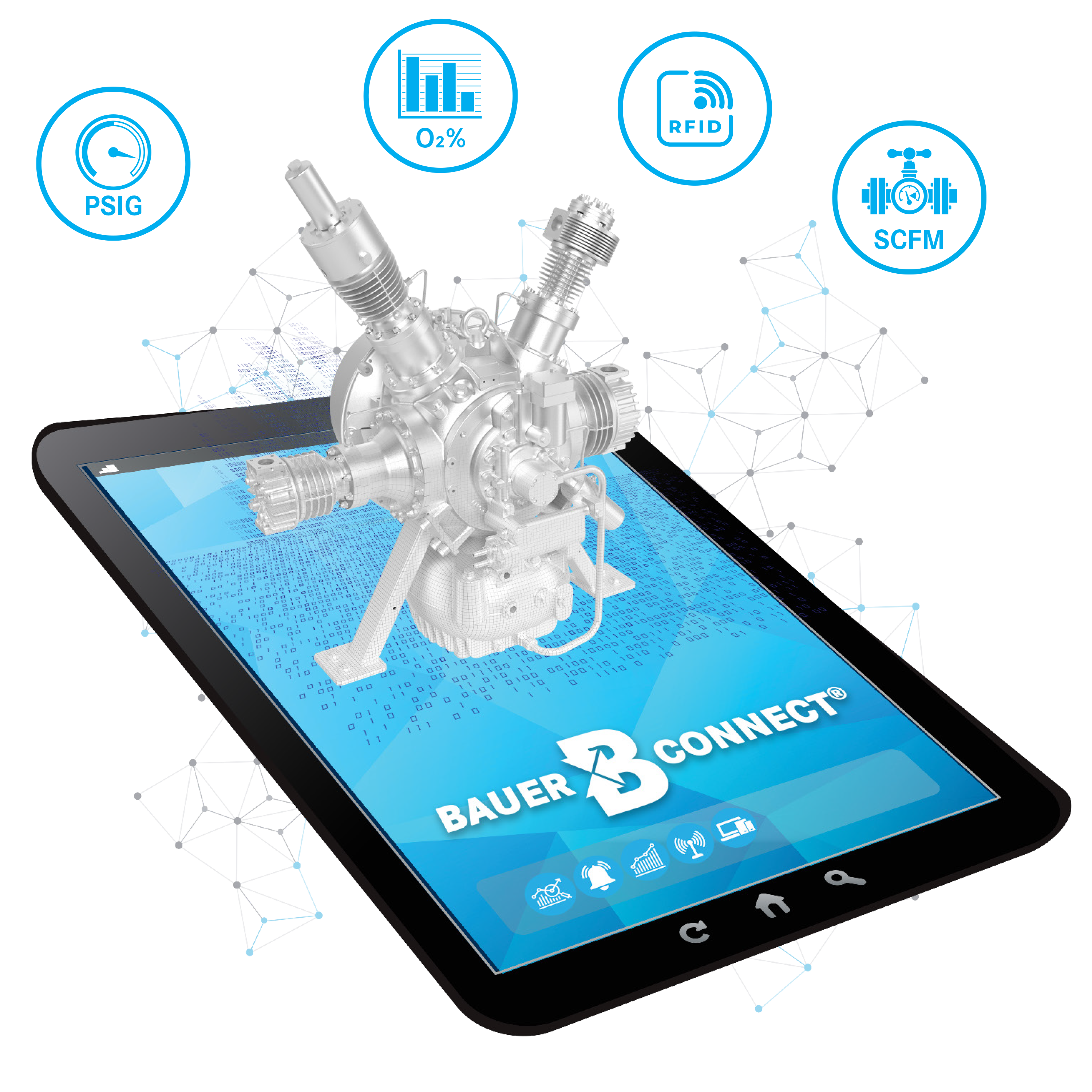 The BAUER Gas Datalogger with BAUER CONNECT® IoT is designed to capture critical gas measurements such as flow, pressure, temperature, and selected gas composition values at various points in a pre and post-compression gas stream.
The BAUER CONNECT® app displays critical gas measurement values from the BAUER Gas Datalogger in real-time via any mobile device or computer with Internet access. Besides real-time data display functionality, BAUER CONNECT® stores the values the BAUER Gas Datalogger collects in the BAUER Cloud for historical data reporting. BAUER CONNECT® can provide various customerized reports which show the progression of critical values over time via the BAUER Reports functionality. In addition, BAUER CONNECT® will send out push notifications, text, or email alerts to the customer if the critical values defined by the customer exceed pre-determined paratemters. When combined with BAUER CONNECT®'s powerful AI-enabled BAUER Predictive Analytics option, the app can provide advanced notification of future events to optimized overall system performance and reliability.
BAUER CONNECT® IoT for auxilary gas measurement devices such as the BAUER Gas Datalogger can operate independently of a compressor system.
---
BAUER CONNECT® IOT FOR BAUER B-DETECTION™ PRECISION GAS COMPOSITION ANALYZER
BAUER CONNECT® IoT, when combined with the BAUER B-Detection™ precistion gas composition analyzer for breathing air applications, has been designed to capture criticial gas composition measurements such as:
% Carbon Monodioxide (CO)
% Carbon Dioxide (CO2)
% Oxygen (O2)
% Hydrogen Sulfide (H2S)
% Oil Content
Dew Point
BAUER CONNECT® is an app and Internet-based IoT solution that allows BAUER customers to control and monitor the performance of their entire BAUER system through any wireless mobile device or computer anywhere, anytime.
The Key Features of this IoT solution:
Allow customers to increase effiency and productivity,
Save time.
Do more with fewer resources.
Have lower operation cost and total flexibility with a solution tailored specifically for them.
BAUER CONNECT® - Connection that Matters.
Security Features:
Multiple logical & physical security layers
Priviledge and separation of rights
AI/ML threat assessment & analysis
Transport layer encryption and encryption at rest
Extensive logging and monitoring of the network, system and application events