BAUER REMOTE HMI
Remotely control your BAUER system from your Android, iOS, or Windows device, anywhere there's an internet connection.

BAUER MOBILE DASHBOARDS
Display a real-time graphical display of your entire system (SCADA view). The Mobile Dashboard feature provides information such as compressor system status, error log, critical pressures and temperatures, and volume of air dispensed in storage information, etc.

BAUER REPORTS
BAUER Reports is a function that generates custom reports tailored to the specific needs of the customer.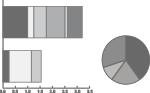 BAUER PREDICTIVE ANALYTICS
The Bauer Predictive Analytics capability provides a new proactive dimension to perpetually maintaining customers' compressor systems at peak conditions with minimum downtime. BAUER's Predictive Analytics algorithm uses artificial intelligence to analyze the collected breathing air system information on the Bauer Cloud to predict upcoming maintenance requirements and preventive actions to avoid unplanned shutdowns.